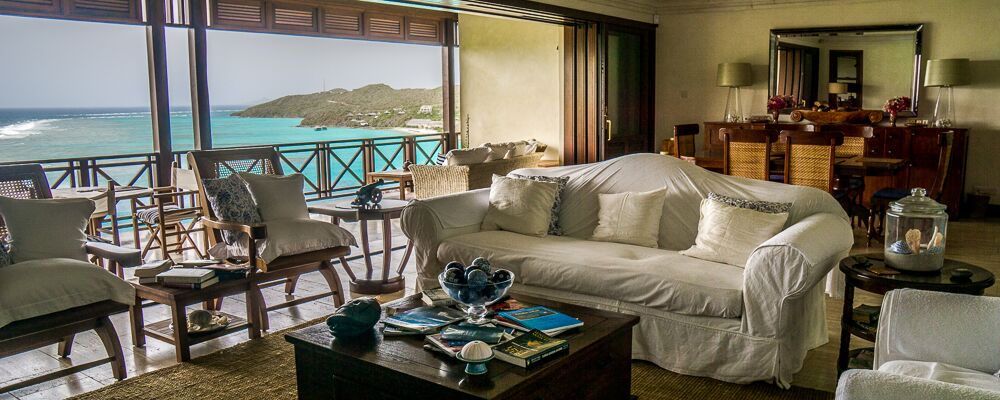 DINING OPTIONS
Breakfast
Breakfast à la carte is  served at the resort Lagoon café from 7am to 10.30am  – a 15 minute idyllic drive on the golf cart through the golf course.
Complimentary continental breakfast supplies are available daily in the villa
Lunch
Shell beach bar and grill – the ideal venue for spending the day on the beach under the shades or trees.  A casual restaurant serving a lunch menu of grilled seafood and meats, salads or sandwiches and is famous for it's delicious cocktails enjoyed whilst relaxing  by the sea.
Pool Bar restaurant located at the Mandarin Oriental hotel and overlooking Godhal beach. It specialises in health food.
L'Ance Guyac – is a beautiful new facility on a secluded beach on the west coast enjoying colourful sunsets. It takes a 25 minute drive on the golf cart to reach through the golf course hills and serves drinks and food on a seasonal basis.
Dinner
Juliet- evokes the ambience of a member's club complemented by both the indoor and terrace seating.
Romeo – all day dining offers an authentic global menu.
Bellini's Bar and restaurant is an open air  relaxing yet elegant venue serving a select international menu.
La Piazza is a stylish Italian restaurant offering a number of eclectic Italian dishes along with an extensive wine cellar selection.
Restaurants off the Resort requiring car transportation
Glossy Bay Marina is a new restaurant with a renowned chef at the beautiful modern marina of Canouan overlooking the Grenadines on the south side of the island.
Palapa Restaurant at the Tamarind Beach Hotel is an open terrace bar and restaurant serving a selection of Italian dishes, wood oven pizzas and fresh local fish. Open for breakfast, lunch and dinner.
The  Mangrove is a laid back, very casual restaurant set on the village beach serving fish
Provisions and Shopping
We would be happy to organize your pre-arrival  or daily shopping subject to seasonal availability . We advise that our guests fill out a list of supplies they may require for their stay in the villa four weeks prior to their arrival. These should be settled on arrival.  Supplies of certain items may be
subject to availability.
The villa Bibiluna staff will happily assist with your daily shopping or dining reservations. Guests may prefer to cook a meal ,  dining on the villa terrace enjoying views of the turquoise lagoon, listening to the crickets and  just relaxing.