CANOUAN ISLAND – EXCLUSIVELY PRIVATE
This is an island of outstanding natural beauty, a blend of lush tropical hillsides with white sandy undisturbed beaches protected by one of the longest coral reefs in the Caribbean.
Located in the heart of the Grenadines, Canouan is one of the Caribbean's most up and coming Caribbean destinations. Canouan lies directly 18 miles south of Mustique and three miles north of the Tobago Cays in the southern Caribbean. It is one of the 32 islands that make up St Vincent and The Grenadines.  Canouan island is just five square miles and enjoys a fair climate all year round at 30 degrees centigrade.
Canouan is an exclusive tropical hideaway- stunning lagoons, warm waters, white sandy beaches and lush tropical greenery. Bibiluna is a private "Golf Villa" located on the 1200 acre Grenadines Estate which includes a golf course and the  luxurious Pink Sands Club of Sandy Lane fame due to open in 2015.  However unlike Sandy Lane this resort is paparazzi free – two thirds of the island is owned by the resort and the airport has been extended to accommodate private jets.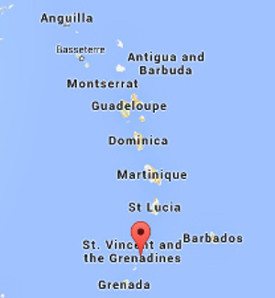 The Grenadines Estate is a small community of luxury private properties nestled in the hillside, all with magnificent sea views. The 23 Golf Villas were all designed to fit in perfect harmony with the natural landscape. These villas sit privately and comfortably in the hillside. Superior craftsmanship and the finest-quality materials are hallmarks of these residences.
Villa Bibiluna's guests enjoy the facilities of the Canouan 5*Resort. The resort encompasses three white sandy secluded beaches, a Jim Fazio designed 18 hole golf course regularly voted the top course in the Caribbean, a new 11 room ESPA and a variety of restaurants. The Spa also includes two palapas glass bottomed treatment suites set over the turquoise water and the coral reef  accessible only by boat just off the private jetty for a truly unique experience.
Outside of the resort the small village of  Charlestown has a bank, supermarket, few local restaurants and the 4* Tamarind Bay Hotel with additional dining options.  Elsewhere secluded white sandy beaches and superb views of the Grenadine islands  are there to be explored for those that wish to venture off resort.
Average daytime temperatures range from 24°C/75F to 30°C/87F. Driest season is December to May.
Exclusive and escapist, luxurious and elegant – Canouan island is a truly unique location in the Caribbean.